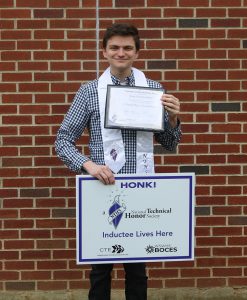 Congratulations to Schuylerville High School senior, Devin Brimmer, who was inducted into the National Technical Honor Society, a student honor organization for outstanding students enrolled in occupational, vocational or technical programs. In addition, Brimmer was recognized for his work in the New Media program at SUNY Adirondack's Early College Career Academy (ECCA) through the Washington, Saratoga, Warren, Hamilton, Essex (WSWHE) BOCES. Brimmer, who attended ECCA during his junior and senior year, earned two "Best of the Year" awards, one for his collaborative work filming and editing a video for Guitar Cloud, and the second for Web Design, Art 251.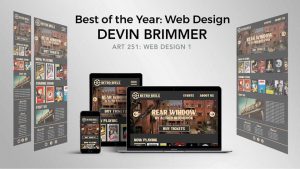 "Devin's commitment and focus in the Early College Career Academy has been very apparent since the moment he began the program," said Schuylerville High School Guidance Counselor, Janine O'Brien. "He has been an exceptional student and role model."
"Devin's success in the Early College Career Academy is evidence that a high school student's education is not one-size fits all," added Schuylerville High School Principal, James Ducharme. "There are many pathways students can choose. We are proud of his hard work and accomplishments."
The New Media two-year program combines the strengths of the SUNY Adirondack Media Arts program and the WSWHE BOCES Graphic & Visual Communications program. The New Media program exposes students to graphic design, photography, and video editing and production, as well as communications theory and practice. It blends art, technology and soft skills through a highly integrated, hands-on curriculum. Brimmer will graduate with 42 college credits as a result of his two years in the program. 
During Brimmer's high school years, he completed several internships, including one at the Saratoga Film Academy, where he created & filmed a documentary for Saratoga P.L.A.N. (Preserving Land And Nature) and another at Saratoga County 4-H, where he created a promotional video production to highlight local 4-H programs. Brimmer also filmed and edited a promotional commercial for the Washington County Fair that will air on local television stations in the Capital Region.
"I am impressed with all the success Devin has had over the past two years," said O'Brien. "He has represented himself and our school district with such pride."
Brimmer will be attending Ithaca College's Roy H. Park School of Communications, majoring in film, photography and visual arts.