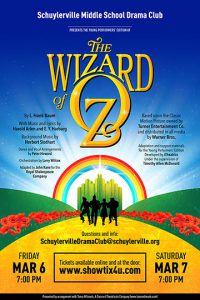 The Schuylerville Middle School drama club will present The Wizard of Oz on Friday, March 6 and Saturday, March 7. Both shows will start at 7 p.m. in the high school auditorium. The production includes more than 70 middle school students and more than a dozen high school students.
About the show
The Young Performers' Edition is a one-hour adaptation of The Wizard of Oz. This classic tale, in which a Kansas farm girl travels over the rainbow to discover the magical power of home, has been entertaining audiences for generations.
Tickets
Tickets for the production are $10 for adults and $6 for senior citizens and students. Tickets are available online, or at the door beginning at 6 p.m. prior to each show.