Since March 16, the Schuylerville Central School District has been committed to providing meals for students despite the state mandated closure.
K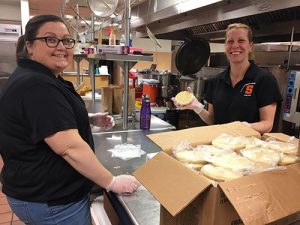 nowing many students depend on school meals for breakfast and lunch each day, Food Service Manager Sarah Keen took steps through the National School Lunch Program to secure funding that would allow pre- packaged meals to be made available to families in the district on a regular basis through the duration of the closure. The district's Food Service Department prepares and packages the meals and they are delivered by Schuylerville's transportation staff three times a week. Meals include two days of breakfast and lunch. To date, 280 students are being assisted with each meal delivery.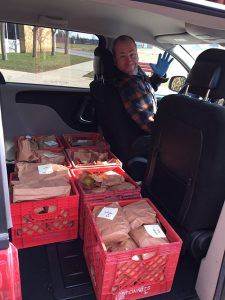 "The combined effort of the Food Service and Transportation Departments is incredible," said Keen. "We are helping so many students and families during this time of uncertainty on a daily basis."
Meals are free to all students under the age of 18, regardless of their free or reduced lunch eligibility during the regular school year.
Breakfast:

 

Cereal w/milk, fruit and juice

Lunch:

 Cold sandwich or similar option, vegetable, fruit, and milk
The district is continuing its local partnerships with Saratoga Apple and Thomas Poultry during the closure. In addition, King Brothers Dairy donated 600 bottles of chocolate milk for the meal delivery program.
"We are so thankful for the generous donation," said Keen. "Our students will be excited to get this treat with their lunches this week."
If you are in need of a meal delivery, please contact Food Services Manager Sarah Keen via email at keens@schuylerville.org or by calling 860-309-7490.