All faculty and staff have been invited to participate in a K-12 Schuylerville employee vehicle parade through the Schuylerville CSD streets and neighborhoods on Thursday, April 2 beginning at 2:00 p.m.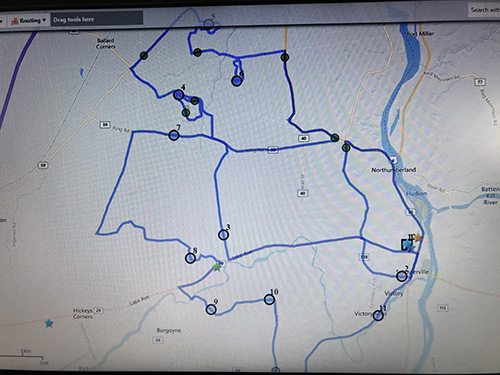 Transportation Supervisor Chuck Barss will lead the event by school bus and follow a route that will hit most areas within the district. The parade will last approximately 90 minutes. We invite families to stand on their driveways/in front of their homes to wave hello. Listed below are the route details; the noted times are approximate and could be later as the route goes on. 
We hope you can join us in observing this great display of unity and school spirit from your homes!
Route Details
2:00pm: leave the school
Right on Rt. 29
Right on Grange Hall Rd.
2:10pm: Right on Rt. 32 (come down Bacon Hill heading back into Schuylerville)
2:15pm: Right on Burgoyne St. (up the hill past the Monument)
Left on Rt 29
2:25pm: Right on Homestead Rd.  past Virginia Place development
Left on King Rd.
Right on Colebrook Rd.(which turns into Taylor Rd.)
2:30-2:35pm: Turn left into main entrance of the Terrell Hills development (make a loop around and then go out the same way we came in)
Left out of Terrell Hills (Taylor Rd.)
Right on Rt. 50 past Rimbrave Ct. development
Right on Colebrook Rd.
2:40-2:45pm: Left on Brampton Lane
Right on Colebrook Rd.
Left on San Luis Rd. (development)
Left on Duncan Rd.
Left on Lindsay Rd.
2:50-2:55pm: Right into Lindsay Hill development
Right out of Lindsay Rd.
Right on Rt. 32
Right on Stonebridge Rd.
3:05-3:10pm: Right on King Rd. to go past Castlewood, Stevens Court and Plantation Rd. (developments)
Left on Ruggles Rd. past The Preserve (development)
Left on Louden Rd. to go past Chelsea Dr. (development)
3:20pm: Right on Ashleigh Lane (development)
Right on Louden Rd.
Right on Rt. 29
Left on Bryant Bridge Rd.
Left on Burgoyne Rd.
3:30pm: Right on Hayes Rd.
3:35pm-3:40pm: Left on Rt. 32 to head into Victory Mills
Left on Broad St. and back to the school parking lot