Dear Elementary School Parent/Guardian:
As we prepare for the annual New York State English Language Arts and Mathematics Assessments in grades 3-8, I would like to remind you that all ELA and Math testing in grades 3-8 will be a one-session test, but given over two days.
Grade 4 students will have a New York State Science Assessment (written exam only). There will not be a grade 4 Science Performance (Lab Practical) Assessment this year. ELA, Math, and Science Assessments will be administered in the mornings beginning at 9:30 a.m. on the following dates: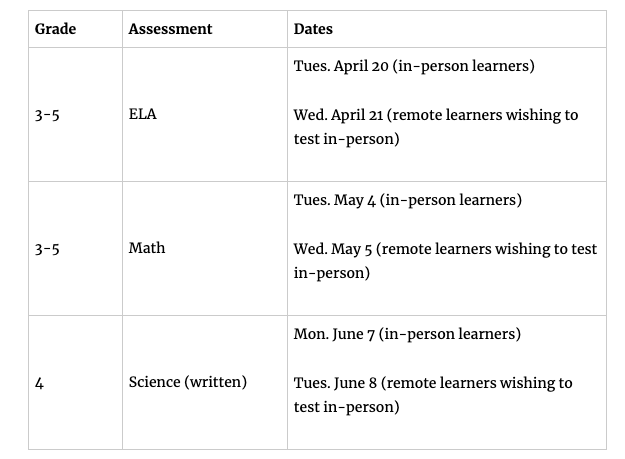 Preparation
Our teachers have been working diligently to provide the skills and strategies to be successful on these exams throughout the school year. In order to make the testing days as successful as possible for your child, please make sure that he/she is well rested. Students who are tired are less focused. 
Student attendance is very important on these days.  In the event of sickness your child will be tested on the day they return to school. 
2021 Changes
The New York State Education Department (NYSED) has made significant changes to the Grades 3-8 ELA and Math tests due to COVID-19. As a result of feedback from the field, listed below are the changes made:
Flexibility in the testing schedule so we can adhere to our hybrid model schedule
Reducing the test from a two-session to a one-session test
Decrease in the number of test questions, and eliminating field test questions
Students who are fully remote should be given the opportunity to take the test, but will not be required to take it.
We request that if your child is fully remote and planning to test OR if your child is an in-person learner and choosing not to test, to please notify Jennifer Tompkins via email tompkinsj@schuylerville.org by Thursday, April 1, 2021.  
Thank you for the positive support you provide your child during these assessments, as it enables students to come to school with an optimistic attitude and the confidence to succeed.  If you have any questions on the testing schedule, please contact the Elementary School office at 695-3255 ext. 1221.
Sincerely,
Rose Beckett, Principal
Schuylerville Elementary School