The United States Department of Agriculture (USDA) has announced that additional funding will be available for schools to continue providing free meals to all students through the end of this school year. The child nutrition waivers first became available during school closures in the spring of 2020, were extended in September through December 2020, and will now be extended again through June 30, 2021. Click here to read the full press release.
This extension means that every Schuylerville student may receive one free breakfast and one free lunch daily. A meal consists of an entree, fruit, vegetable, and milk. Students may decline certain components but are required to take at least 1/2 cup fruit and/or vegetable with their meal. This is a USDA regulation nationwide. Cashiers will assist students in selecting a fruit if they come through the line without one. A la carte items (including doubles) are still available grades 6-12 for purchase.
Options for Hybrid/Remote Learners
Remote families may pick up a free box of groceries with food for five days of breakfast and lunch every Monday afternoon.
Hybrid students may pick up a grocery box during the Monday pickup as well; a box with two or three days of meals will be made available for students depending on that week's schedule.
This curbside service is simple and also

 

FREE

 

for all families through June 30, 2021.
Signup is required by emailing Food Services Manager Sarah Keen:

 

keens@schuylerville.org.
Free Weekend Meal Kits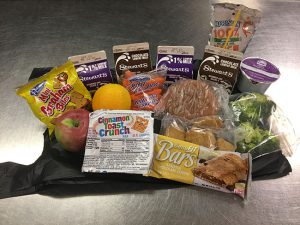 The district will begin offering free weekend meal kits for all enrolled students as a result of the extended USDA funding, starting Monday, Oct. 19. Each kit will contain two breakfasts with juice/fruit, two lunches with fruits/vegetables, and four servings of Stewart's Shops milk. Fully remote and hybrid families picking up meal kits on Mondays will automatically receive the additional food in their bags.
Students who are in school full time may sign up for their meal kits by contacting Sarah Keen at 
keens@schuylerville.org
or 518-695-03255 ext. 2290. Please sign up in advance so we can ensure enough meals are prepared!
*Please note: Although this is a "weekend" meal kit, they will be distributed during the Monday remote/hybrid meal pickups from 4:00-4:30 p.m. in front of the elementary school. Students in the School's Out program may get theirs when they are picked up. We aim to provide items with a minimum one-week shelf life so they can be enjoyed at a family's convenience.