Click here for a video of the two-week long flamingo flocking event.
When the world went on pause as a result of the COVID-19 pandemic, it set off a ripple effect on everyone's lives. To protect public health and safety, the pause forced normal routines, schedules and events to halt for the foreseeable future. High school seniors across the country became faced with the prospect of not knowing how their final year would end. 
Annette Reitano and Melissa Winchell, both mothers of seniors, said they felt compelled to do something that would adhere to social distancing guidelines, but still keep the seniors connected.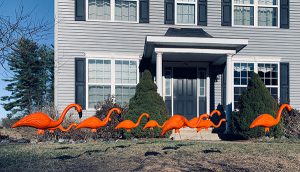 "I remember when flocking for birthdays was a thing," said Reitano. "When I found plastic flamingos online, I told my son the story of how they would be secretly left on people's lawns for occasions. When we saw orange flamingos, the "flocking of the senior class" was born."
Reitano, Winchell, and a third parent, Michelle Elder, purchased 30 flamingos with the hope of getting them passed around to as many seniors as possible. Attached to each bird were instructions for the recipient to sign his or her name and then pass it on to another senior lawn for the day.  
"It was a fun way for the kids to stay connected and united at this difficult time," said Winchell.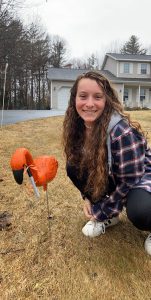 "It was truly representative of what was happening among the class," added Reitano. "Being alone, yet being part of something bigger."
Efforts were made for every senior student to sign a flamingo, furthering the true united stance the Class of 2020 has taken.
"I feel that the senior flamingo flocking has helped the class feel more connected during these hard times," said senior Emma Nesbitt. "It has brought the class together in a way that I never thought it would."
"I'm sure many of us wish we were in school, myself included," added senior Charles Luzadis. "The flamingos helped our spirits by allowing us to stay connected."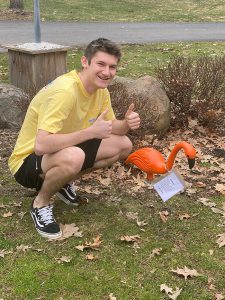 For more than two weeks, the flamingos could be seen flocking to various lawns throughout the district; sign of school spirit, unity, and resilience. If school closures are lifted statewide, the flamingos will flock to the front lawn of Schuylerville High School to welcome back the seniors.
"It's important to have high morale during times like these," said Nesbitt. "It was exciting being able to receive a flamingo and pass it on to my other classmates. It made me happy that we still all care about each other during these difficult times."
"The flamingos are a way of continuing our bonds," echoed Luzadis. "They're keeping us optimistic during this time away from school, in hopes that we'll be able to return soon."