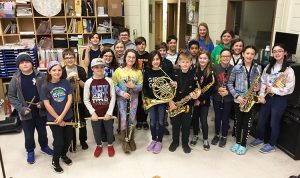 23 fifth and sixth grade students represented Schuylerville at the New York State School Music Association (NYSSMA) Solo Festival at Maple Ave. Middle School in Saratoga Springs on March 6 and 7.
NYSSMA is a state-wide organization of music educators from across New York state. Each spring, it hosts solo festivals across the state during which music students perform for an adjudicator for a score and comments on their playing.
Students who elect to participate in the NYSSMA Solo Festival must commit extra practice time outside of school to the preparation of their selected solo piece, the memorization of scales and the practice of sight reading skills.