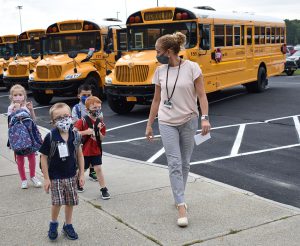 The Schuylerville Central School District Transportation Department is hosting a Test Drive a School Bus Day, in an effort to recruit substitute and permanently staffed drivers. There are many advantages to becoming a school bus driver, including a flexible schedule, paid training, and the opportunity to interact with K-12 students on a daily basis!
Schuylerville CSD has 40 buses in its fleet that transport approximately 1,400 Schuylerville students and 30 private and parochial school students each day. In total, the district's buses travel 380,000 miles a year transporting students to and from school, athletic events, and field trips.
Event Details
When: Thursday, Oct. 14, 10:00 a.m. – 12:00 p.m. 
Where: Schuylerville CSD campus, 14 Spring St. Schuylerville, NY 12871
Eligibility: 21 years of age or older; m

ust possess a valid NYS Driver License

A Commercial Driver License (CDL) is not required to participate in the test drive, but will be required for employment. Drivers will receive paid training from Schuylerville CSD in order to attain the CDL.

RSVP: by Tuesday, Oct. 12
Interested individuals will be required to follow the district's COVID-19 health and safety protocols; attendees will be required to wear a face mask at all times.
Click here to fill out a Google Form to register for the Test Drive a Bus Day event. If you have any questions, please contact the Schuylerville CSD Transportation Dept. at 518-695-3255, ext. 3260. Copies of job applications will be available onsite.