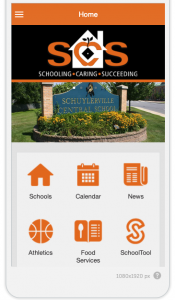 A NEW Schuylerville CSD mobile app is now live in the Apple App Store and Google Play Store! Any old version of the app that you have on your phone can be deleted.
Direct links to the district's app
SchoolMessenger emails (emails branded with the district's logo and colors as the header) will continue to be used for communication of information pertaining to district families with students enrolled K-12.
However, in addition to district families, the mobile app allows outside community members, extended family members, etc. to keep up on news/positive happenings in the district by opting in to push notifications during sign-up. The mobile app is the mobile version of the district website.
Please reach out to Communications Director Taryn Kane with any questions: kanet@schuylerville.org.