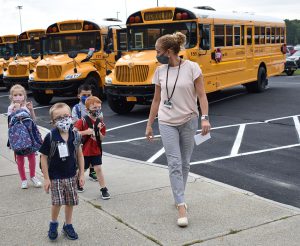 Open enrollment for kindergarten registration will begin Feb. 1 for any child entering kindergarten at Schuylerville Elementary School in the Fall of 2021. Children must turn five years old on or before Dec. 1, 2021 to start kindergarten in September 2021. If your child is eligible, here are some important steps to prepare for regarding the registration process:
An online pre-registration form will be shared in the coming weeks for completion during the month of February. Registration must be completed by Feb. 26.

A Kindergarten Parent Orientation night will be held virtually on Thursday, March 11 at 6:30 p.m.

The program will explain the screening process, talk about expectations for children coming into kindergarten, describe Schuylerville's kindergarten program and allow time for parents/guardians to ask questions about the school.

After all registration requirements have been completed, the district will contact parents/guardians in April to schedule a virtual kindergarten screening appointment.

Kindergarten screening will take place in May.
We look forward to welcoming our youngest learners to Schuylerville Elementary!